PRTG for iOS
Get a PRTG app that runs on
iPhone, iPad, and iPod touch
Save time and check your network while on the go!
Review monitoring data, check your devices and sensors, get
informed via push notifications, and do many more things!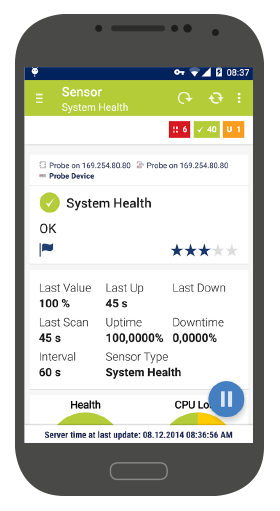 PRTG for Android
Runs on all Android based smartphones
and tablets, on BlackBerry devices and
on Kindle Fire HD
Let PRTG for Android show you your network in a mobile friendly way! Carry out your everyday monitoring tasks wherever you are. You can also use additional tools even without connecting to a PRTG core server.
Get notified more easily with
PRTG push notifications
This free feature of PRTG Network Monitor is easily set up and comes with a full bag of advantages: Similar to a text message (SMS), you'll be notified immediately. Push notifications also do not drain your battery, because only a small part of the app will run when your system receives a push message.
In order to send push notifications, simply set up a corresponding notification trigger for your sensors. For a detailed guide on how to set up push notifications, please have a look at the article in the Paessler Knowledge Base.
Please note: Push notifications from PRTG are currently in a beta phase and we're excited about being able to provide this service to our users. With your help we will also be able to test our cloud under real world conditions and to further optimize it.